A message from The Archivist....
Welcome to the Cave of Curiosities – a treasure trove of private recordings of Hilary throughout her career. This space will be updated regularly to give you a selection of some of my favourite items, some meaningful – her professional debut as Gaea in Strauss' Daphne whilst still a student; some unexpected – cabaret croonings, and some downright weird – Dalila in Welsh anyone?
The vast majority of these recordings are "off the air" and recorded on less sophisticated equipment than we are used to these days. Added to the fact that they have been transferred from cassette tape to digital the actual sound quality is often more akin to the Adelina Patti cylinders than the high quality we have come to expect from commercial recordings! However, it all adds to the Archive Experience so please try to enjoy them for what they are.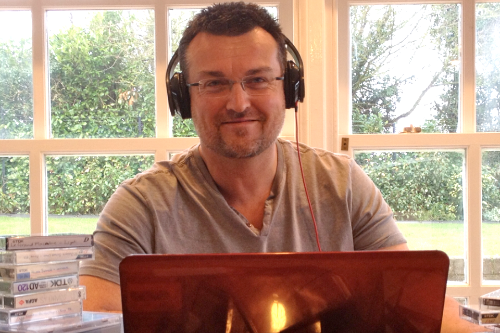 DON'T PANIC
This is the original demo recording of "So long and thanks for all the fish", Joby Talbot's title song to the 2005 movie The Hitchhikers' Guide to the Galaxy. The final version used in the film has Hilary joined by numerous other performers including Neil Hannon, whereas this demo has her singing all the parts and Joby playing all the instruments.
Old friends of Hilary's site may well have noticed that, in the move to the current website, this video had vanished from the Cave. This was just an oversight so, observing the instruction of the Guide itself – DON'T PANIC, here it is back for your pleasure and interest.
This is one of three Cave-dwellers featuring Joby – the others are the title song of The League of Gentlemen, which he also composed, and the Divine Comedy's "Sweden" as he was a member of the band.
Something soothing
This production of Orlando was the first opera I saw abroad – at the Théâtre des Champs-Elysées, Paris, in 1994. I subsequently saw it again in 1995 it when it transferred to the Vlaamse Opera when Kathleen Brett replaced the lovely Rosa Mannion. I loved the whole opera – both musically and the Robert Carsen production – but this trio was, for me, the real highlight.
She also sang this production in Montpellier and New York and it became the start of a long working relationship with William Christie and Les Arts Florissants. It was also her first opera recording which went on to win several awards and is still in the catalogue – see Discography.
This excerpt is taken from an in-house recording of the final dress rehearsal (I have uploaded the entire performance to YouTube).
Coincidental factoid: when I was date-checking the Belgian performance, Google showed me information for the Orlando Opera…..based at the Dr Phillips Center. Spooky!
Königskinder – may they rest in peace…
Humperdinck's Königskinder has been very much (and, in my personal opinion, entirely justifiably) neglected outside German-speaking countries since its 1910 premiere at the Met with Geraldine Farrar, who made a speciality of the Goosegirl in the pre-World War I era. However, even her personal popularity and her own flock of specially trained geese couldn't establish the piece in the repertoire.
English National Opera's 1992 production was lavish and, in the second act at least, comedic in style, but has never been revived – which probably speaks volumes. There is a saying that what doesn't kill you, makes you stronger and this, perhaps, was true for Hilary when she sang the Stable Maid for her ENO debut right at the beginning of her career. A caricature of a minor role, she didn't really enjoy the experience and it has taken me a decade to cajole her into letting me put up this excerpt, but it is definitely a curiosity and finally needs to be laid to rest in the Cave…
Musings on a Modern Muse
This was originally broadcast in a radio series about modern muses as part of the Hear and Now programme on BBC Radio 3 in 2016.
I know that there is already an interview section on this website but that is really capturing a cosy chat between friends. This is somewhat different as they are independently talking to a silent interviewer about each other and the impact the other's art has on them. I think you will find it illuminating and the mutual respect and friendship are very palpable.
On a personal note, it obviously takes me back over decades of our own friendship and how Michael's music came into my own life. I remember the horror of that original "Princess" score and Hil's effort to learn the piece, subsequent performances of the work and a near-death experience. My wife and I also went to that first concert she mentions and screamed ourselves hoarse at the visceral experience of it, culminating in Sarah Leonard's stunning performance of "Memorial". Hilarious times text-checking Hil when she was learning "The Self-Laudatory Hymn of Inanna and her Omnipotence" [how I wish THAT had been recorded!!  JP: What's yours in Nippur?   HS: (tentatively) The Giguna?   JP: No!! The Duranki! You're rubbish!!! Learning by humiliation…]. A number of performances of the Celan Songs – perhaps most movingly when it was just him accompanying her on the piano. A fabulous partnership.
Anyway, enjoy…
Making a splash……. Le Canard - Kurtág
This was the first performance of a piece Kurtág wrote for Hilary and Arnaud Arbet to premiere at a concert comprising his music with pieces by Ravel, Stravinsky and Boulez given in the Ridotto dei Palchi at La Scala in 2018 as part of the 27th Festival Milano Musica. It coincided with the premiere of his first opera "Fin de partie" at La Scala in which Hilary was singing the role of Nell. The text is by his granddaughter, Judit.
As an added bonus, the clip also features the SECOND performance of the piece – less of an encore, more sheer chutzpah!!
Erda awakens
For some years now I have really wanted to hear Hilary sing the role of Erda in Wagner's "Ring Cycle".
As a student she sang the "Rheingold" Erda for masterclasses with Birgit Nilsson but otherwise her only foray into Wagner has been with a few Schwertleites in Scotland and Tenerife.
In February 2017, the Saffron Opera Group played a concert performance of "Siegfried" and Hilary was asked to sing Erda by Elaine McKrill (see "Priva son" video below) who was acting as their casting adviser and also singing Brünnhilde. The performance was a great success with superlative reviews so with a bit of luck she will get to repeat the role in the future.
This recording is suboptimal regarding sound quality but does capture some of the flavour of that evening. Andrew Greenan sings Wotan.
Long promised...Dalila in Welsh!!
It has been promised from the start but the advent of St David's Day makes it a suitable time to unleash this onto an unsuspecting world.
Apologies up front for the sound quality – this has been resurrected from an ancient cassette and despite me trying to eradicate extraneous noises, there is a continuous squeak. This Dalila has truly been corrupted! However, the bizarre nature of this piece means it MUST be in the Cave so you will have to make do.
The recording is from a concert in Cardiff with a 24 year old Hilary and the Welsh National Youth Orchestra conducted by Arthur Davison in 1989 and broadcast on BBC Radio Wales.
Not a lot of people know that
In 1997 Hilary first met Neil Hannon and Joby Talbot of the band The Divine Comedy as they were great fans of Michael Nyman. Indeed Hilary ended up doing a gig with them and providing some vocals on their album "Fin de Siècle". The actors of the cult comedy "The League of Gentlemen" were also fans and when the show was transferred from radio to TV they approached Joby to write the theme tune for the series who in turn asked Hilary to provide the vocals. The vocal part is instrumental in style and wordless which adds to the sinister air.
Hilary has, of course, performed Joby's music on a number of occasions and he has written several pieces for her voice. The theme song for "The Hitchhikers' Guide to the Galaxy" (also with Neil Hannon) is one of these and the prototype appears further back in the Cave.
Not a lot of people know that (Part 2)
Following on from Part 1, I have also included Hilary's foray into the world of popular music with one of the tracks she contributed to for "Fin de Siècle". Hilary appears (multiply tracked) in two numbers – Commuter Love and Sweden. I have included the latter piece for the simple reason that I love Stockholm and used to loathe commuting in London. Shallow I know, but there you have it!
Cruda Sorte
In 2014, Hilary has just made her Rossini opera debut in La Cenerentola at Salzburg Whitsun and Summer Festivals as one of Cecilia Bartoli's sisters.
As such I thought it might be worthwhile to post a recording of a Rossini aria as Hilary has sung several in recital. Cruda sorte is the one she has sung most frequently and this particular rendition is from the Kokkola Festival in Finland and conducted by Sakari Oramo c2012.
And the dead shall be raised incorruptible...
OK, in my preamble to the Cave I promised you items that might be "meaningful…. unexpected….. and some downright weird". While I might have been delivering on the first two, I feel I have been a little mean on the last. This month I shall deliver on my promise.
From 2006 – 2018, the West Coast Kokkola Opera Company was based near Helsinki, Finland and each summer provided a festival run by soprano Anu Komsi and her husband, the conductor Sakari Oramo. Hilary was a frequent visitor and performed opera and recitals there. She was also able to try out new roles such as Carmen and Countess Geschwitz, often in rather avant garde productions.
In 2014 a light-hearted, non-classical, open-air concert was thrown at the end of the Festival for people to let their hair down and have a bit of fun. (Although it looks like the middle of the day, it is actually nearly midnight!)
To that end, Hilary decided to throw all caution to the wind and do a series of Elvis numbers……dressed like someone who might conduct impromptu weddings in Las Vegas.
It may be Art, but not as we know it!!
Hamlet's dialogue with his conscience
I know that it's New Year and people are full of good cheer, but I think I must have seasonal-affective disorder because I'm more in the mood for darker things, and nothing gets much more miserable than Russian song!!
This is Shostakovitch's setting of the third of "Six Poems of Marina Tsvetaeva" Op 143. Here Hamlet's conscience replaces the voice of Ophelia and he confronts his guilt at her death.
The six songs were written for the mezzo Irina Bogacheva and were premiered on 27 December 1973. Originally for voice and piano, he arranged a chamber orchestra version the following year. Tsvetaeva was a great icon of the "silver age" of Russian poetry. She committed suicide in 1941 following a turbulent life which included the execution of her husband and imprisonment of her daughter on espionage charges earlier that year.
Hilary has performed the songs occasionally in recital over the years. This particular recording is from a very early demo tape she made for anyone who might wish to employ her…
Nonn' erubeskite, reges....Ego senem kekidi
In August 2014, Hilary sang her first Jocasta in Stravinsky's great opera-oratorio "Oedipus Rex" at the Proms in London.
This excerpt is the complete appearance of Jocasta. She chastises Oedipus and Creon for quarrelling in public and declares the oracles to be liars as they had declared her first husband would be killed by her son and instead he had been murdered at a crossroads (trivium). The chorus echo trivium and Oedipus confesses to Jocasta that he had killed a man at the crossroads. Jocasta tells him to do nothing but Oedipus resolves to find the shepherd who witnessed the event.
Allan Clayton sings Oedipus and Sakari Oramo conducts the BBC Symphony Chorus and Orchestra and the BBC Singers.
Nuit paisible et sereine
I love the summer – hot days and balmy evenings. Not so common in Britain perhaps but there are always warmer climes we can escape to, as indeed I plan to next week!
This beautiful nocturne ends the first act of Berlioz's "Béatrice et Bénédict" and encapsulates the joy of such an evening and remains one of my very favourite pieces of music. Here it is given in another student performance from the Royal Academy of Music in 1989 and I apologise for the background hiss of the old recording.
Hilary plays Ursule and Héro is the lovely Bethan Dudley who went on to join Welsh National Opera where her roles included the Countess Almaviva and Donna Elvira.
Rinaldo (finale)
This offering of the end of Handel's opera, Rinaldo, ties together a couple of 2014's musical events for Hilary.
She had spent a significant proportion of that year preparing and performing Cenerentola with Cecilia Bartoli in Salzburg. This was their third outing together following Semele in Paris and, in 1999 a short European tour of Rinaldo. Sadly, this year also saw the death of Christopher Hogwood who conducted those Rinaldo performances and with whom Hilary worked on many occasions.
The opera also has special significance for Hilary and I as she sang the aria "Or la tromba" at my wedding!
The finale of the opera follows that aria and brings together all the principals after a short battle which sees Goffredo triumph over Argante. The cast was a great one with the Polish contralto Ewa Podles in the title role, Bartoli as Almirena, Gerald Finley as Argante, Maria Costanza Nocentini as Armida, Daniel Taylor as Eustazio and, of course, Hilary as Goffredo. Christopher Hogwood conducts the Academy of Ancient Music in this performance from Vienna on 16 January 1999.
Ingratitude's the queen of crimes
As I am flying out to Egypt this morning I thought I would post something vaguely appropriate, hence this particular excerpt.
"Joseph and his Brethren" is a rarely performed oratorio by Handel, hampered by a truly dreadful libretto. Written by an English clergyman, it assumes that everyone knows the story of Joseph (and this before Andrew Lloyd Webber and his dreamcoat) so leaves most of it out! The best role in the piece falls to the soprano playing Joseph's wife (!) who gets some storming numbers to deliver. The contralto roles are often doubled as they are not extensive – Phanor (Pharaoh's, later Joseph's, cup-bearer) and Potiphera (the High Priest and father to the warbling soprano bride).
This excerpt gives Phanor's aria from Act I where he repents not telling Pharaoh sooner about Joseph's psychoanalytical prowess which would have secured his earlier release from prison (though why he is in prison, why Phanor should know of his dream interpretation skills and why Phanor is ungrateful are not explained by the libretto – for full plot spoilers read Genesis chapters 38-45!!).
The recording is from a concert given on 17 May 2013 at the Göttingen Festival with Laurence Cummings conducting the Festival Orchestra.
Lieder eines fahrenden Gesellen
In 2013 Hilary started experimenting with heavier works outside her usual repertory, including Mahler, who had two outings with a Third Symphony in Tenerife and then "Lieder eines fahrenden Gesellen" in Frankfurt. Subsequently she has added Symphonies 2 and 8 to her repertoire though this remains a composer who is very much an occasional visitor to her schedule.
The Lieder are performed in the arrangement Schoenberg made in 1920 for the Society for Private Musical Performance which promoted concerts in the aftermath of the Great War. They capture the intimacy of the original piano accompaniment but also the many colours found in the later orchestral score.
Although originally written for male voice they have often been sung by a female, though usually a higher mezzo rather than a contralto.
The four movements are:
When my sweetheart is married
I went this morning over the field
I have a gleaming knife
The two blue eyes of my beloved
Priva son d'ogni conforto
Cornelia's aria from Act 1 of Handel's "Giulio Cesare" is one of those beautiful opera seria arias which still reach out to us across the centuries and move us with their simplicity and heartfelt nobility.
Hilary has sung three roles in this opera – Cornelia, her usual role, Tolomeo for Opera de Lyon with Christophe Rousset and Les Talens Lyriques, and Cesare in a semi-staged performance by the early opera company in London.
This excerpt is from an amateur video made at a Royal Academy of Music student performance in 1988 when Hilary was 23. The Sesto is played by Elaine McKrill who is now finding success in hochdrammatisch roles including Isolde and Brünnhilde, and her confidante is Kate Woolveridge who recently won ITV Inspirational Woman of the Year for her fantastic work with the Forget-Me-Not Chorus she started for dementia sufferers.
The conductor is Trevor Pinnock.
Veni, veni Emmanuel
As the festive season is upon us, it is perhaps appropriate to enter the holiday mood by transforming the Cave into a Christmas grotto.
Santa's gift to you all is a recording Hilary has made especially for the occasion – the carol "Veni, veni Emmanuel" written c.1850 as an adaptation of the 12th Century antiphon.
Many thanks to the Vicar of St Mary's Church, Manuden for allowing us to record there.
Merry Christmas to you all.
Summertime
Continuing the summer flavour and refusing to go autumnal, here is another sultry cabaret excerpt from that concert for Intensive Care research. Hilary exhibits the same sort of improvisational skills that mark her ornamentation of baroque music. Andrew West is the pianist and Stephen Pearce plays the saxophone.
Hilary's only other foray into Gershwin came while a student at the Royal Academy when she turned up on one of the undergraduate audition days dressed in one of my suits and performed "Bess, you is my woman now" as a baritone named Terry Bull. There was talk of a scholarship…
Oh I do like to be beside the seaside!
This is the time of year when you pack your bucket and spade and head for the beach so to complement this seaside image I am choosing Elgar's Sea Pictures this month. Premiered in 1899, they were sung at that performance by Dame Clara Butt – dressed as a mermaid! In fact Elgar had originally written them as soprano pieces but transposed them at Butt's request.
Although not "curiosities" in themselves, for many of you this will not be the repertoire you particularly associate with Hilary. In fact she has sung the cycle on several occasions, her first performance being in the Milton Keynes Leisure Centre, an occasion she recalled on being presented to the then Prince Charles, after a subsequent airing in Cardiff's St David's Hall, who enquired as to whether she had sung the work before. His response "How marvellous to be able to say one has "done " the Milton Keynes Leisure Centre!" tickled her enormously. This early performance of them with the late, great Vernon Handley conducting the BBC Concert Orchestra in 1991 has always been special to her and hence I include it here although the sound quality is not the best (headphones improve it).
And now for something completely different...
Chaste, pure singing and spiritual texts are not the only form of entertainment Miss Summers can provide gentle listener.
She also delves into the seedier side of life with gusto (as can be seen by the charming photo of her as Mother Goose with Toby Spence and Laurent Naouri in the Gallery)!
I shall prove the point with two excerpts this month. The first is an extract from a concert performance of Le Grand Macabre by Ligeti given in the Barbican in October 2003 by the BBCSO conducted by Alexander Rumpf. In Act I scene 2, Hilary plays the sadistic dominatrix, Mescalina, who dreams of a "well-hung man" rather than her husband, the court astronomer Astradamors (Dario Suss). Her wish is granted by Venus (Caroline Stein) by the appearance of Nekrotzar (Willard White) and his servant Piet the Pot (Graham Clark). Nekrotzar seduces then kills her.
And now for something completely different...(Part 2)
Continuing the theme, the second excerpt is taken from a charity concert Hilary organised to raise money for research into Intensive Care Medicine. The second half of the concert was devoted to cabaret-style music including this rendition of Tom Lehrer's Masochism Tango, accompanied by Andrew West.
Hildegard of Bingen; Ave generosa
The hymn to the Virgin, Ave generosa, was composed by the incredible Hildegard of Bingen (1098-1179) – composer, writer, Christian mystic, visionary, philosopher, abbess (including the foundation of two abbeys) and general polymath.
Hilary has performed this work in several recitals, often pairing it with another unaccompanied work by a female composer, King Harald's Saga by Judith Weir. This recording is taken from "Une heure avec…" – a recital series at the Aix-en-Provence festival which took place one sunny lunchtime in the summer of 1994  in the open air cloisters at Aix.
Daphne
Near the beginning of Richard Strauss' opera "Daphne", we see the titular heroine being reprimanded by her mother, the earth goddess Gaea, and told to come back to the house and put on some more appropriate clothes before she goes out for the evening – a message as familiar today as it obviously was in the ancient world. However, unlike customary shrill operatic scolds such as the Queen of the Night, Gaea gets her way by means of a slow lecture, utilising the lowest range of the contralto voice. The vocal line spends much of the time below the stave, taking her to two low E-flats, which limits the number of singers who are comfortable enough in this tessitura to perform it live.
Hilary's single performance as Gaea came in a concert performance by the Chelsea Opera Group at the Queen Elizabeth Hall in London in 1990 conducted by the great Strauss authoriy and biographer, Norman del Mar. She was just 25 at the time, and still a student. She later sang this aria for a series of public masterclasses with the legendary Birgit Nilsson who awarded her a crystal rose bowl for outstanding promise.
This recording is from that London performance and features Teresa Cahill as Daphne.